THHE AUCTION is fighting for the soul of the city.
The 34th annual live & silent art auction featuring stunning artwork from celebrated local and national artists, delicious hors-d'oeuvres, and live entertainment all to benefit Hospitality House's Community Arts Program as we celebrate its 50th year.

Photography by Jared Stapp
SCHEDULE
6:00 General admission
7:30 Live auction
9:00 Silent lot closes
Cocktails by Nick Melle of Bon Voyage

Music by Joshi Marshall Quartet

Food by The Midway
ART CURATION COMITTEE
Andrea Schwartz
Shannon Trimble
Olivia Ongpin
ARTIST PARTNERS
APEX
Kelly Tunstall
Ferris Plock
Emilio Villalba
Micah LeBrun
Rachel Lena Esterline
GALLERY PARTNERS
Jessica Silverman Gallery
Hashimoto Contemporary
Chandran Gallery
First Amendment
111 Minna Gallery
ABG Art Group
pt.2: Gallery
For the past 34 years, Hospitality House's Annual Art Auction has brought together the local community, gallery professionals, art enthusiast & collectors, non-profit organizations and local businesses to support our neighborhood artists whose artwork hang side-by-side with nationally renown artists.
Purchase your tickets today by clicking the button below and save $25!
Hospitality House is a progressive, community-based organization located in San Francisco's Tenderloin Neighborhood, Sixth Street Corridor, and Mid-Market Area that provides opportunities and resources for personal growth and self-determination to homeless people and neighborhood residents. Our mission is to build community strength by advocating policies and rendering services which foster self-sufficiency and cultural enrichment.
The Midway Gallery is unique in that it resides within a large creative complex, home to music, performing arts, emerging technologies and the culinary arts - all with an aspect of education and public engagement. The Midway gallery features emerging to mid-career artists with the mission to exhibit their work to a fresh collector base in The Midway's dynamic community. Much like The Midway itself, the gallery puts emphasis on artists working across disciplines or mediums and creates a stage for artists to push boundaries.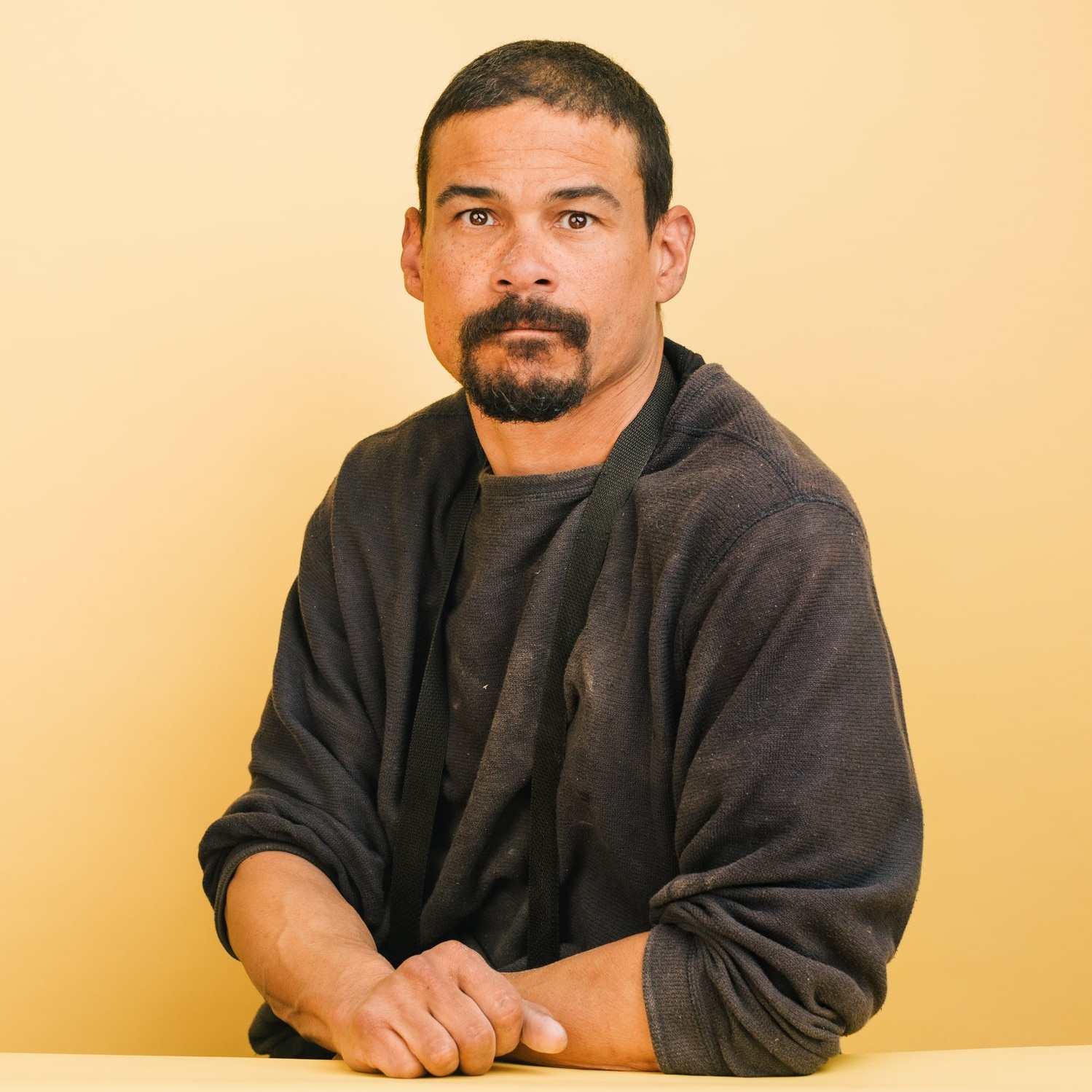 The Impermanent Art of Found Objects
John Mason Myres III ("Gigot")
John Mason Myres III is a nomad with a vision. Known by his street art name "Gigot," he turns found objects into wood sculpture and collages. A leftover piano crate, broken pallets, discarded canvas banners and design flyers serendipitously placed where had can find them become the materials for his works of art.
His art is as impermanent as his daily life. Homeless for most of the past 2 ½ years, Myres doesn't sit still. He's always scouting for new materials and constantly constructing something. His works reflect what he finds on the streets, recombined and reimagined. "I've been working on different strategies for how to adapt to whatever is made available to you, whatever you can find and how to quickly build and quickly un-build shelter in case you have to be moved," Myres said.
His personal studio is an outdoor nook under a bridge near San Francisco's design district, where he also seeks shelter. His large outdoor works frequently get swept up and held by the city's public works department during street cleanups. He knows the routine for recovering them inside and out, and he builds his sculptures modularly so he can easily reuse pieces in new works if they get damaged.
"If they take something, even if I've worked hard on it, I'll just start again and make something new out of what I've got," Myres said.
That was the story behind how he started his work called "Leather Cowboy," which depicts the leather scene on the city's South of Market neighborhood. It started as a depiction of his favorite playing card, the king of clubs, but then fell apart after being moved and restarted without success. He reused the pieces for the "Leather Cowboy" sculpture.
"I was building myself a portrait of the perfect husband," Myres said.
Finding the Community Arts Program
Myres was looking for a place to keep some of his art safe, when an acquaintance told him about Hospitality House's Community Arts Program. It not only gave him a place to hold some of his art, but it's also become his indoor studio space. In particular, Myres is able to work on graphic design and typography for his pieces, such as cutting and pasting found type, that is difficult to do outside.
Having his art at CAP's studio has proven beneficial. CAP was able to put some of it on display for a show last year, and he also has sold a couple pieces.
"If they ever need art to be put up all of sudden, I've got art right here," he said. "You just never know when something like this could be needed."
Moving to San Francisco
Myres moved to San Francisco from Eugene, Ore., five years ago, after studying graphic design at the local community college. He was looking for a city with a better gay culture.
"Eugene was nice but it really didn't quite suit me as far as the pace of life," he said.
He was working two jobs in the city and renting a room when, about 2 ½ years ago, everything changed. He lost his jobs, and his roommate kicked him out.
Beyond the joy he gets from creating art, Myres hopes it also can help out others facing homelessness.
"My approaches with design might help people come up with their own shelter solutions because of what designers leave [behind]," he said. "Their leftovers become our staples for survival."
Get to know THHE AUCTION's 2019 Community Artists
A SPECIAL THANK YOU TO OUR SPONSORS
Braden Cerutti & Launie Douglas
Brookfield
Community Housing Partnership
Hospitality House Board of Directors
Karen Diefenbach
Northern California Community Loan Fund
Q Foundation
Leslie and Merle Rabine
Officengine
Swords to Plowshares
Sherilyn Adams
Michael & Carol Kesich Blecker
Jeanie Bunker
Delivering Innovation in Supportive Housing (DISH)
Episcopal Community Services
Daniel Hlad & Sean Greene
Homeless Prenatal Program
Jason Rodrigues
Andrew Sommer & Martin Anguis
Diane B. Wilsey
Joe Wilson
Alanna Zrimsek & Morton Levin
AIDS Legal Referral Services
Carol S. Anderson
Anonymous
BB&T Insurance Services
Causa Justa Just Cause
Cello Partners and Laura Schuler
Chinese Progressive Association
Coalition on Homelessness
Compass Family Servies
Curry Senior Center
Marissa D'Orazio
Faithful Fools
Elaine Go
Carla Javits and Margaret Cecchetti
Bud & Fran Johns
Lyndsey Konrad
A.Samson Manalo & Joyce Juan Manalo
Pamela May
One Treasure Island
Rachel Patterson
Bob Prentice
Maria Rocchio
Senior & Disability Action
The STUDIO Gallery
Eric & Karen Sullivan
Jennifer Taylor
Tenderloin Neighborhood Development Corporation
Gary & Betty Wiley
FRAMING PARTNERS
Back to the Picture
Chandler Fine Art & Framing
Michael Thompson Framing
The Painters Place Picture Framing
Spot Design
Sterling Art Services
Underglass Framing
FURNITURE BY
KBM l Hogue